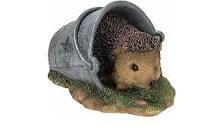 Vivid Arts Hedgehog In Rusty Pail
This little Hog in a pail would make a lovely present for any hedgehog lover.
The product is frost resistant meaning if you choose to place it outside you don't have to worry about it breaking in the winter and can be left in place to look stunning all year round.
Length 18cm
Due to high demands please allow for 10 - 15 working days delivery times.